Maryland Graduation Timeline
What to Expect at Graduation
The timeline below provides step-by-step information on what to expect up to and during graduation. Please contact marylandgraduation@purdueglobal.edu if you have any questions.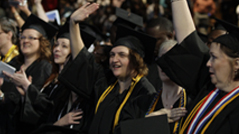 Step 1: Decide if You Are Attending or Not Attending a Ceremony
If You Are Not Attending a Ceremony
It is not necessary to fill out any forms as the Office of the Registrar will automatically mail your diploma approximately eight weeks after completion of the final class and all program and financial requirements have been confirmed by University officials according to the University Catalog.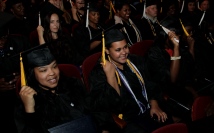 Step 2: Determine if You Want to Attend the Maryland Ceremony
You've decided to attend the Maryland ceremony—great! Here's what to do next:
Determine Eligibility—Review your remaining credits and expected graduation date on your degree plan to determine when your degree will be completed as your degree must be completed by December 31, 2018, to attend the Maryland ceremony to be held on Sunday, December 2, 2018.
Review Financial Obligations—Participating in the graduation ceremony can be a financial commitment. The students are responsible for purchasing their cap and gown as well as any costs associated with getting to the ceremony, including airfare, hotel, etc. Because costs vary with each student depending on their needs, we recommend researching your costs before registering to attend the ceremony.
Step 3: Register to Attend the Ceremony
To register for the Maryland ceremony, please follow this two-step registration process.
Step 1: Complete the online participation survey approximately 2 to 4 months prior to the ceremony date. Students must register to attend the winter ceremony by Friday, October 19, 2018. Note: it is not necessary to wait until you reach your final term to register. As long as your completion date is by December 31, 2018, you may register as soon as registration opens. Please note: If the ceremonies reach capacity before the deadline, registration will close early due to fire code regulations.
YOU ARE NOT CONSIDERED REGISTERED FOR THE MARYLAND CEREMONY UNTIL THE ONLINE PARTICIPATION SURVEY IS COMPLETED. THE DEADLINE TO REGISTER IS OCTOBER 19, 2018.
Step 2: Order your cap and gown. Caps and gowns are not sold by Purdue Global and will not be available for purchase at the graduation venue. Therefore, they must be ordered prior to the ceremony. Cap and gown orders take up to 6 weeks to process, so it is recommended that orders are placed early. The deadline to order caps and gowns for the Maryland ceremony is October 26, 2018, and may be purchased through Jostens. CAP AND GOWN ORDERING WILL GO LIVE AUGUST 15, 2018.
Make your travel plans. Students who do not reside near the ceremony venue are responsible for making all necessary travel plans to get to the ceremony. We recommend booking your airfare and hotel early to avoid high prices.*
Watch your email for important updates and graduation information concerning the Maryland ceremony. If you move, please contact marylandgraduation@purdueglobal.edu with an updated address as the information may be mailed and/or emailed to the address provided on your participation form.
*It is recommended that graduates and guests refrain from booking travel accommodations until after the ceremony registration opens. In the event of a schedule change, Purdue Global is not responsible for reimbursing travel costs or other expenditures associated with attending the ceremony.
Step 4: Tips for Making Your Experience Seamless
Confirm Your Registration—Make sure you have completed the two-step process to register for the Maryland ceremony. These two steps are listed on the Maryland Graduation page and include filling out the registration survey and ordering your cap and gown through Jostens. Once you are registered you will start receiving emails about the upcoming graduation ceremony.
Avoid Unnecessary Fees—Preparing for graduation can be overwhelming, but keeping the following in mind can help ease the stress by keeping costs to a minimum.

Order Your Cap and Gown by the Order Deadline—Orders placed after the deadline (October 26, 2018) may require additional rush shipping fees to ensure your order is received in time.
Make Travel Plans Early—Hotel and airfare costs are typically higher when booked close to your travel dates, so make any necessary reservations early.
Contact Us if Your Plans Change—If you are unable to attend the ceremony, please contact marylandgraduation@purdueglobal.edu by the posted cancellation deadline of October 28, 2018, or a $125 late fee may be charged to your account.
Step 5: What to Expect on Graduation Day
Below is the graduation day schedule.
December 2, 2018
Maryland Morning Ceremony Schedule
Commencement for graduates in the Schools of Business and Technology, and Health Sciences
9:30 am: Graduate check-in for the morning ceremony, and family photos (optional) - high school gymnasium
10:00 am: Auditorium doors open for the morning ceremony guest seating
11:00 am–1:00 pm: Morning ceremony
Maryland Afternoon Ceremony Schedule
Commencement for graduates in the Schools of Education and Nursing, College of Social and Behavioral Sciences, and Concord Law School
1:30 pm: Graduate check-in for the afternoon ceremony, and family photos (optional) - high school gymnasium
2:00 pm: Auditorium doors open for the afternoon ceremony guest seating
3:00 pm–5:00 pm: Afternoon ceremony
Open House at Purdue Global, Hagerstown Regional Location
The Hagerstown regional location will host an open house from 12:00 pm to 2:00 pm on December 2. The open house is for graduates and their families who would like to see a Purdue Global regional location and take a tour of the facility. A Purdue Global sign that makes a great backdrop for photos is also available. The location of the open house is less than a half mile away from the graduation ceremony venue, North Hagerstown High School.The address of the open house is:
Purdue University Global
18618 Crestwood Drive
Hagerstown, MD 21742
Take the second school entrance located at the bottom of the hill on Crestwood Drive to park and enter the facility.
Helpful Hints
Be Prepared to Walk—Before processing into the theater, you will line up in a holding area with your classmates. There is moderate distance between the holding area and the auditorium, which does include stairs. If you or a family member needs any special accommodations please make sure to fill out that information when asked this question on the registration survey.
Do Not Arrive Earlier Than Requested—While we encourage you to arrive early enough to become familiar with the area, if you do not have questions or do not require assistance, please refrain from arriving more than an hour prior to the start of the ceremony to avoid long wait periods.
Step 6: Life After Graduation
Graduation is now behind you, but Purdue Global has more to offer.
Explore the Alumni page to stay connected with fellow graduates and peers, and to take advantage of the many benefits available to Purdue Global graduates, including discounts with select retailers, continuing your education, and more.
Career Services provides resume and job search assistance. All graduates can check out the career search tools available through the Career Network. The Career Network is accessible via the Purdue Global Campus portal to currently enrolled students and graduates of Purdue Global. It is a social platform for our students and alumni to collaborate with each other and the Career Services team. You can search for jobs 24 hours a day, 7 days a week, as well as track your job search activity.