Features and Facilities
Facilities Designed to Help You Learn
Discover the features and facilities of our Hagerstown, Maryland location and how we are here to support your educational goals.
Student Life Facilities
The Administration Building, a 27,000 square-foot classroom, office, and student support building, houses administrative offices, learning commons, a learn lab, a fire arms training simulator, computer and clinical labs, and faculty offices.
The Hagerstown location is situated in a beautiful wooded area right off Pennsylvania Avenue (Rt. 11) in the north end of Hagerstown, Maryland, and has two large parking lots. County buses stop 2 blocks away and take passengers to downtown Hagerstown and nearby shopping centers and residential areas. We are also close to shopping areas with several restaurants.
Student Lounge, Common Areas, and Computer Rooms
A student lounge provides a great place to take a break, eat, or use your laptop. The lounge contains tables and chairs, a TV, vending machines, microwave oven, and a telephone.
Two conference rooms can accommodate approximately 20 students or staff and contain computer projection systems. The admissions and reception areas each have large computer screens providing information about the school and programs. There is a large and beautiful courtyard outside the Administration Building. Picnics, orientation, receptions, and other events are regularly held in this area.
Three computer labs can accommodate approximately 15 to 30 students each. Students are free to use the labs any time the location is open, as long as they are not being used for classes.
Also, in the Administration Building there is a technology-enhanced learning lab classroom with 32 laptop-accessible stations, a laptop storage cart, tracking cameras, and audio/video broadcast and recording equipment. The building also features a classroom fitted with a judge's and witness bench for simulating courtroom cases.
The Learning Commons can seat 40 students and has 15 computer stations with access to the internet and all Microsoft Office programs. The Career Services Center also has two computer stations for students.
Hagerstown Computer Room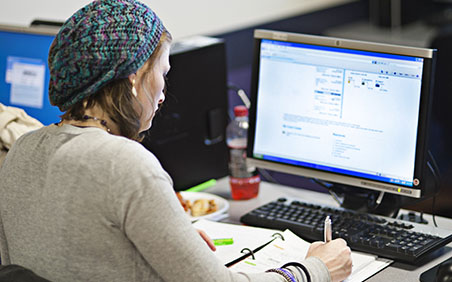 Hagerstown Computer Room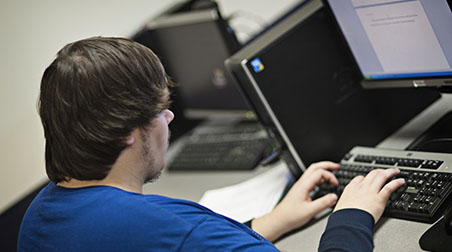 Program-Specific Labs
Firearms Training Simulator (FATS) Lab
The atmosphere of this room offers an opportunity for participants to simulate actual police interaction with the public, including flashing lights, the sound of firearms, verbal interactions with the public, and the verbal commands from the officer during training. The lab has a ceiling-mounted FATS machine with a 16' x 8' screen. There are two Glock 17 handgun simulators and two OC spray simulators, as well as a portable speaker system, a police rooftop flashers unit, and CO2 tanks for the guns (to provide life-like recoil). The room is capable of training up to 15 people at a time.
Medical Facilities
The medical lab has the tools you need to gain hands-on experience with equipment commonly found in medical offices, including a centrifuge, autoclaves, incubators. There is also a fully equipped medical examination room with three examination beds.
Hagerstown Phlebotomy Lab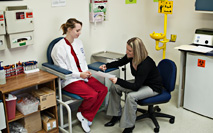 Hagerstown Learn Lab
Hagerstown Medical Lab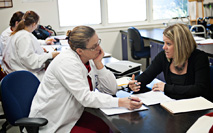 Hagerstown Medical Lab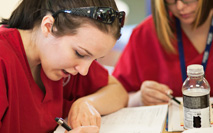 Learning Commons
The Kiracofe-Lewis Learning Commons is designed to support and enhance your educational experience. The Learning Commons houses the student services department and office of the student success coordinator who can assist you with tutoring and support for your classes. With a combined collection of books and subscriptions to magazines, journals, and newspapers, the Hagerstown Learning Commons has extended evening hours four nights per week. In the Learning Commons, students also have access to wireless connectivity for those wanting to bring their own laptop computers, as well as desktop computer workstations with access to an extensive collection of electronic subscription databases through the Online Library. The Learning Commons also offers areas for group study, private study, comfortable lounge seating and a coffee station for students who want to use the commons for study, classes, or course seminar.
Tutoring Services
The Student Services Department provides regular schedules for tutoring in math, composition, and other subjects students may need. The tutors are generally instructors that have volunteered their time. The Learning Commons houses the office of the student success coordinator who coordinates tutoring and workshops for all students in using computer technology and using productivity programs such as Microsoft Office. The student success coordinator also provides extensive help for students in accessing and attending their online courses.