Flexible Schedules
Our classes are offered both day and night providing you the flexibility needed to balance your life and your education. You can continue working at your current job while receiving an education that could lead to a successful career.
Personal Feel, Practical Education
Our faculty and student body form a dynamic learning setting, and our present facilities offer industry-related technology that you may encounter in the workplace. Our laboratories and other facilities complement your learning environment for better career preparation.
Specialized Programs
Purdue Global also offers Advanced Start Bachelor of Science programs for students who have already earned an associate's degree.
"Shortly after I earned my associate's degree I started working in a hospital IT department—all thanks to the wonderful help of my externship coordinator. She helped me get through the interview process successfully. I have since earned my bachelor's degree and moved into a managerial position."
Charles Rickard, Bachelor of Science in Information Technology and Associate of Applied Science in Computer Forensics Graduate
Our beautiful grounds, classrooms, labs, and social areas create a distinctive campus environment. Newly renovated facilities show our emphasis on keeping current with changing times. A Fire Arms Training Simulation Lab, Learn Lab, and Learning Commons are just a few examples of our facilities.
Hagerstown, Maryland Campus Location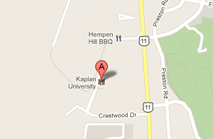 Purdue Global in Hagerstown, MD is located on seven and a half acres in a quiet residential area just minutes from the intersection of I-70 and I-81. The college is equidistant (70 miles) from the cities of Baltimore, Washington, DC, and Harrisburg, Pennsylvania.
Situated in the Cumberland Valley and ringed by the Appalachian Mountains to the west and the Blue Ridge Mountains to the east, historic Hagerstown and surrounding Washington County offer many recreational and cultural activities. Come and see for yourself if Purdue Global in Hagerstown is the place to pursue your education.
18618 Crestwood Drive
Hagerstown, MD 21742
Tel: 301-766-3600
Tel: 800-987-7734
Career Services
Your success is important to us, so our Career Services Department is readily available to assist you with your individual career planning. We also provide guidance in any of our offered career programs.
Your success beyond the classroom is important to us. We offer individual career planning and assessments to help you craft the most effective employment search strategies. Learn to write effective cover letters and resumes and sharpen your interviewing skills so that you can make a favorable first impression with prospective employers. We can also guide you in identifying job openings by using local newspaper classified ads and by searching the Internet.
Ongoing Career Services
We offer services such as professional development training and career planning resources and assistance. Even after you are employed, you may contact the school for assistance with updating resumes and use the resources available in the Career Services Department.
Part-Time Jobs
Many students work on a part-time basis during school to help finance their education. If you require assistance in securing part-time employment while attending classes, the Career Services Department will make every effort to assist you in your search.
Programs and Activities
Providing students with a dynamic, stimulating on-campus experience is part of Purdue Global's ongoing commitment to excellence. Here's just a sample of what's happening:
Annual Community Awareness Day
Annual picnic at the Hagerstown Suns' baseball stadium
Workshops on topics such as time management, APA style, study skills, and more
Awards and receptions each term for President's and Dean's List students
Faculty luncheons
Pizza days
Spring and summer family picnics
Teacher Appreciation Day luncheon
Holiday celebrations
Hershey Park tickets for students
Annual Area College Relay for Life for the American Cancer Society
NOTES AND CONDITIONS
*This testimonial was solicited by Kaplan University. Purdue University acquired Kaplan University in March 2018 and created Purdue University Global, which is following the same curriculum format and instructional delivery methods as developed and used by Kaplan University. Views and opinions stated herein are the individual's and not necessarily those of Kaplan University. Individual student experiences may vary. The program referenced in this advertisement is designed to teach students certain skills that could be used in connection with the position stated, but does not qualify students to apply for that position. Purdue Global cannot guarantee employment or career advancement. Additional training or certification may be required.