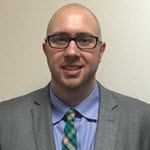 Andrew Gress, Academic Dean
Andrew Gress has been with Purdue Global (formerly Kaplan University) since 2007. He is the academic dean of the Des Moines campus. He has previously served as the director of library services, adjunct professor, and associate academic dean. In his time with the University, Andrew has strengthened faculty scholarship and development, been part of regional and programmatic accreditation visits, increased academic and operational efficiency, and strengthened academic partnerships with other area Des Moines institutions.
Andrew has a passion for leading the faculty and staff to support student success. He received a Bachelor of Science in History/Political science from North Dakota State University in Fargo, North Dakota. He completed his master's degree in library and information science from the University of Wisconsin-Milwaukee in Milwaukee, Wisconsin.