Features and Facilities
Facilities Designed to Help You Learn
Discover the features and facilities of our Des Moines, Iowa, location and how we are here to support your educational goals.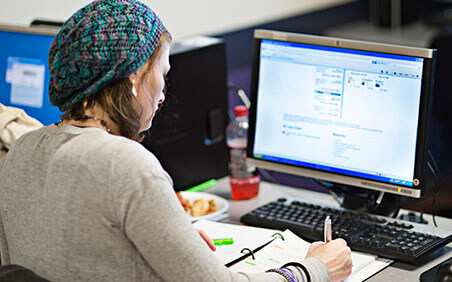 Practical Facilities
The Des Moines location consists of 30,000 square feet of specially built classrooms, computer and medical labs, student lounge facilities, and administrative offices. Located in suburban Des Moines, our facilities are partially accessible to persons with physical impairments.
Student Lounge and Common Areas
We have 6 beverage and snack vending machines, 1 refrigerator, 2 microwaves, 1 water/ice machine, lounge area with couch, and several round tables that seat up to 4 students for study groups.
Computer Rooms
Ccomputer labs have approximately 30 computers per room with high-speed internet and LCD Monitors. All computer rooms also have ceiling projectors and a whiteboard. Students are free to use the labs any time the locatin is open, as long as they are not being used for classes. In addition, the Academic Success Center has computers for student use.
Program-Specific Labs
Firearms Training Room
The atmosphere of the room offers a great simulation of actual police interaction with the public, including flashing lights, the sound of firearms, verbal interactions with the public, and the verbal commands from the officer during training. The training room has a FATS machine with a 16' x 8' screen. There is a Glock 17 handgun simulator and an OC spray simulator, as well as a portable speaker system, a police rooftop flashers unit, and CO2 tanks for the guns (to provide life-like recoil). The room is capable of training up to 15 people at a time.
Medical Facilities
Our medical labs have the tools you need to gain hands-on experience in clinical procedures commonly performed in medical offices including 3 exam tables, 12 microscopes, an autoclave, centrifuges x2, lab machines, venipuncture, injection supplies, 2 EKG machines, 1 small refrigerator, lab cartridges, and gloves.
The LPN/ADN lab consists of 2 birthing simulators, 1 mannequin (geriatric patient), 4 low-fidelity simulators, 2 high-fidelity simulators, 1 pediatric simulator, 2 oxygen machines, IV pole, arms to practice draws, injection pads, same nursing equipment and beds you would find in a hospital or clinic
Tutoring Services
Tutoring services for each of our programs with tutors on a rotating schedule in order to help our students succeed.
Career Development Center to help students develop their resumes, search for career information and opportunities, and develop a working relationship with our Career Services Specialists.
E-Learning Center Lab has computers with internet access for students taking online classes to access the online classroom.