"My father was a police officer and I wanted to follow in his footsteps. I received my associate's and bachelor's degrees and I'm working on my master's degree. As a working mom with three kids, the online courses give me the opportunity to study when I have the time."
Ariana Den Hartog, Bachelor of Science in Criminal Justice Graduate
Prepare for the life you want to live.
At Purdue Global, you can discover your potential and learn how to make the most of it. Our curriculum is specifically geared toward guiding you in your pursuit of a rewarding and successful career. We strive to help you reach your goals by offering quality programs that integrate general education, professional skills, and career-focused training.

Flexibility
Our classes are offered both day and night providing you the flexibility needed to balance your life and your education. You can continue working at your current job while receiving an education that could lead to a successful career. At Purdue Global we limit class sizes giving you more personal attention. Our intimate approach helps to ensure that you get a quality education. In turn, the knowledge and skills you gain here can provide you the opportunity to experience a successful future.
Personal Feel, Practical Education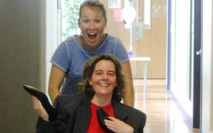 Our faculty and student body form a dynamic learning setting, and our present facilities offer industry-related technology that you may encounter in the workplace. Our laboratories and other facilities complement your learning environment for better career preparation. Instructors with real-world experience lead your classes. They can impart inside knowledge you need to succeed in today's job market.
Des Moines, Iowa Campus Location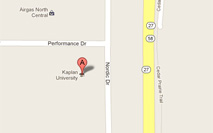 The Des Moines campus is located in suburban Des Moines. But it's what's around us that makes our location special. Des Moines is the capital of Iowa and the most populated city in the state. The city is very business driven, and Forbes named it the "Best Place for Business" in 2010. Des Moines, Iowa serves as the headquarters for several major corporations, and there are many large operation sites in or near the metro area. What that means to you is that, upon graduation, you should have many opportunities to put your career-focused education and training to use in the Des Moines area.
4655 121st Street
Urbandale, IA 50323
515-727-2100
800-987-7734
Career Services at Purdue Global
Your success is important to us, so our Career Services Department is readily available to assist you with your individual career planning. We also provide guidance in any of our offered career programs.
Your success beyond the classroom is important to us. We offer individual career planning and assessments to help you craft the most effective employment search strategies. Learn to write effective cover letters and resumes and sharpen your interviewing skills so that you can make a favorable first impression with prospective employers. We can also guide you in identifying job openings by using local newspaper classified ads and by searching the Internet.
Ongoing Career Services
We offer services such as professional development training and career planning resources and assistance. Even after you are employed, you may contact the school for assistance with updating resumes and use the resources available in the Career Services department.
Part-Time Jobs
Many students work on a part-time basis during school to help finance their education. If you require assistance in securing part-time employment while attending classes, the Career Services Department will make every effort to assist you in your search.
Des Moines Career Day
Des Moines Career Day
Des Moines Career Day
Des Moines Career Day
NOTES AND CONDITIONS
*This testimonial was solicited by Kaplan University. Purdue University acquired Kaplan University in March 2018 and created Purdue University Global, which is following the same curriculum format and instructional delivery methods as developed and used by Kaplan University. Views and opinions stated herein are the individual's and not necessarily those of Kaplan University. Individual student experiences may vary. The program referenced in this advertisement is designed to teach students certain skills that could be used in connection with the position stated, but does not qualify students to apply for that position. Purdue Global cannot guarantee employment or career advancement. Additional training or certification may be required.