Features and Facilities
Facilities Designed to Help You Learn
Discover the features and facilities of our Davenport, Iowa, location and how we are here to support your educational goals.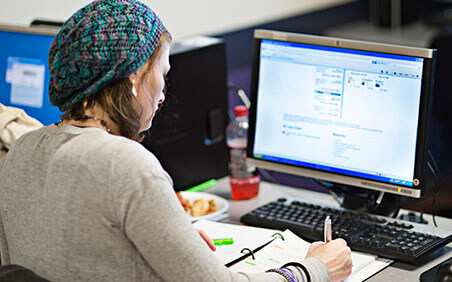 Practical Facilities
The Davenport location encompasses 35,000 square feet of specially built classrooms, computer and medical labs, student lounge facilities, and administrative offices. Conveniently located near the highway system, our facilities are partially accessible to persons with physical impairments. Surrounding area info includes businesses such as Hyvee, Walgreens, and McDonalds. Garfield Park is two blocks south of the campus and features a Frisbee golf course.
Bus passes are available at no cost to student and buses frequently drop off at the corner of the school parking lot. Parking is available in the front, on the side, and in the back of the school.
The location features a student lounge with community information postings, beverage and snack machines, and a comfortable reading area with couches and chairs.
We Proudly Promote Our Recycling Program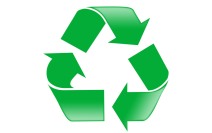 We have teamed with Great Western Supply Co., City Carton Recycling, and SCA Tissue to become a closed loop location. The term "closed loop" describes the process in which post-consumer waste materials are converted into new products to be re-used by the original source. In this case, shredded office paper, boxes, and old newspapers and magazines are recycled and returned in the form of paper towels and bathroom tissue.
Computer Rooms
The Davenport location has 3 computer labs, each of which can accommodate approximately 25 students. Students are free to use the labs any time the location is open, as long as they are not being used for classes. In addition, the library and the Academic Success Center have computers for student use.
Program-Specific Labs
Firearms Training Room
The atmosphere of the room offers a great simulation of actual police interaction with the public, including flashing lights, the sound of firearms, verbal interactions with the public, and the verbal commands from the officer during training. The training room has a ceiling-mounted FATS machine with a 16' x 8' screen. There are two Glock 17 handgun simulators and two OC spray simulators, as well as a portable speaker system, a police rooftop flashers unit, and CO2 tanks for the guns (to provide life-like recoil). The room is capable of training up to 15 people at a time.
Medical Facilities
Our medical labs have the tools you need to gain hands-on experience in clinical procedures commonly performed in medical offices. Purdue Global's medical assisting program has clinical laboratories, and our simulated patient examining areas include:
Examination tables and equipment
Phlebotomy drawing stations
EKG machines
Medical supplies
Hospital beds
Tutoring Services
Tutoring services for each of our programs with tutors on a rotating schedule in order to help our students succeed.
Career Development Center to help students develop their resumes, search for career information and opportunities, and develop a working relationship with our Career Services Advisors.
E-Learning Center Lab has computers with internet access for students taking online classes to access the online classroom.