About Davenport Campus
Skills for Today's World
When you enroll in Purdue Global, you can prepare to meet the demands and challenges of the working world. We know employers want educated and experienced employees who can hit the ground running. At Purdue Global, our graduates are exactly that and more.
The Setting for Success
At Purdue Global, you can gain a real-world education in a thriving metropolitan setting. From laboratories to traditional classrooms, this is your chance to acquire the technical skills needed to reach your career goals. Most programs also offer on-the-job externships to help you gain valuable hands-on experience.
Welcome to Your Future
You can discover your potential and learn how to make the most of it. We are specifically geared toward guiding you in your pursuit of a rewarding and successful career. By offering quality bachelor's and associate's degree programs and certificates that integrate general education, professional skills, and career-focused training, we strive to help you reach your goals. Schedule a tour of our Davenport, Iowa campus today and see why Purdue Global is right for you.
Many of our students juggle work, family, and other responsibilities. To support the needs of adult learners, we offer onsite classes and tutoring as well as the opportunity to take online courses. Purdue Global–Davenport campus, aims to provide students with flexibility and one-on-one attention through a comprehensive support system that includes financial aid counseling, academic advising, tutoring, study skills workshops, career services, time-management exercises, and more.
Davenport, Iowa Campus Location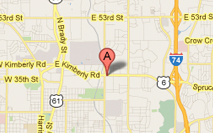 Purdue Global in Davenport, Iowa is surrounded by nearby restaurants, shopping malls, and apartment complexes, giving you plenty of choices. We're also situated near the highway system, making our location accessible to both Iowa and Illinois residents. Davenport is home to many companies and organizations, providing you many opportunities to put your education to use in the area.
1801 East Kimberly Road, Suite 1
Davenport, IA 52807
Tel: 563-355-3500
Tel: 800-987-7734
Directions

Take I-74 North or South to Spruce Hills Drive Exit. Continue west on East Kimberly Road. The campus is at the corner of East Kimberly Road and Eastern Avenue.
Career Services
Your success is important to us, so our Career Services Department is readily available to assist you with your individual career planning.We also provide guidance in any of our offered career programs.
Your success beyond the classroom is important to us. We offer individual career planning and assessments to help you craft the most effective employment search strategies. Learn to write effective cover letters and resumes and sharpen your interviewing skills so that you can make a favorable first impression with prospective employers. We can also guide you in identifying job openings by using local newspaper classified ads and by searching the Internet.
Ongoing Career Services
We offer services such as professional development training and career planning resources and assistance. Even after you are employed, you may contact the school for assistance with updating resumes and use the resources available in the Career Services department.
Part-Time Jobs
Many students work on a part-time basis during school to help finance their education. If you require assistance in securing part-time employment while attending classes, the Career Services department will make every effort to assist you in your search.