Features and Facilities
Discover the features and facilities of our Cedar Rapids, Iowa, location and how we are here to support your educational goals.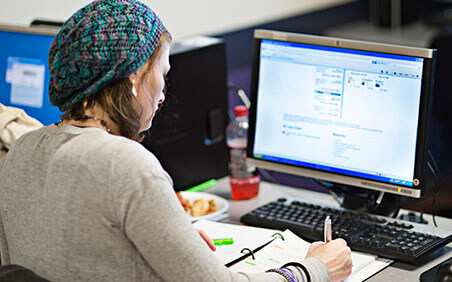 Onsite Facilities
Purdue Global–Cedar Rapids consists of a refurbished 30,000 square foot building with specially built classrooms, computer and medical labs, student lounge facilities, and administrative offices. Conveniently located in a newer commercial district in an expanding part of Cedar Rapids, our facilities are partially accessible to persons with physical impairments.
Our facilities give you a chance to develop a practical, working knowledge of the equipment and materials used in your career. General equipment for all programs includes computers with high speed internet access, overhead projectors, and a variety of computer software and electronic sources including Ebsco Host research engine. For specific courses, we offer a nursing lab and medical assisting lab, both filled with equipment used in the health care field.
Additional Resources
We offer a learning resource center as well as Financial Aid, Student Accounts, and Admissions departments. In addition, you can take advantage of our Academic Success Center, where you can go for tutoring. Our student lounge has vending machines, tables for working or lounging, a television, and a refrigerator for student use. The Cedar Rapids location also offers computer labs and stations.
Program-Specific Labs
Medical Assisting Lab
The medical assisting lab simulates a real medical office where students can learn processes such as venipuncture, urinalysis, microscope analysis, and how to document lab functions in medical records. The lab can accommodate up to 12 students. Because of the type of lab functions practiced or simulated in the lab it is a controlled environment.
Nursing Lab
The nursing lab is set up to simulate a hospital setting and gives students the opportunity to practice and learn hands-on nursing skills. The lab has a patient care area with 5 beds along with a paired mannequin, bedside tables, supplies, and diagnostic equipment. There is an area for students to interact in small groups of about 16 students at a time.
Criminal Justice Lab
The criminal justice lab has a FATS machine (Fire Arms Training Simulator). This machine provides students with realistic training scenarios that aid in developing critical thinking skills, eyewitness identification, and on-demand verbal commands. Only one student is allowed in the simulation room at a time with the instructor. The scenarios can escalate or de-escalate based on the student's performance.