About Cedar Rapids Campus
Professional Student Services
At Purdue Global, we offer more than just an education; we are committed to your future success. Our faculty and staff strive to prepare you with the training you will need to become involved and accomplished in your chosen field.
Experienced Faculty and Staff
Instructors with real-world experience lead your classes. They can impart inside knowledge you need to succeed in today's job market.
Cedar Rapids, Iowa Campus Location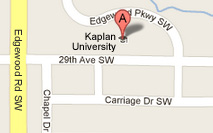 The Cedar Rapids campus is located in a newer commercial district in an expanding part of the city close to many of the companies that employ our graduates. Offering plenty of parking, we are also situated by bus line service. Our Cedar Rapids campus is a stand alone building, meaning that we have everything under one roof. That way, you don't have to travel across the city to fulfill your educational requirements. With access to many diverse restaurants in the area, Purdue Global in Cedar Rapids is easily accessible from Highway 30 and Interstate 380.
3165 Edgewood Parkway, SW
Cedar Rapids, IA 52404
Tel: 319-363-0481
Tel: 800-987-7734
Career Services
Your success is important to us, so our Career Services Department is readily available to assist you with your individual career planning. We also provide guidance in any of our offered career programs.
Your success beyond the classroom is important to us. We offer individual career planning and assessments to help you craft the most effective employment search strategies. Learn to write effective cover letters and resumes and sharpen your interviewing skills so that you can make a favorable first impression with prospective employers. We can also guide you in identifying job openings by using local newspaper classified ads and by searching the Internet.
Ongoing Career Services
We offer services such as professional development training and career planning resources and assistance. Even after you are employed, you may contact the school for assistance with updating resumes and use the resources available in the Career Services Department.
Part-Time Jobs
Many students work on a part-time basis during school to help finance their education. If you require assistance in securing part-time employment while attending classes, the Career Services Department will make every effort to assist you in your search.