Features and Facilities
Facilities Designed to Help You Learn
Discover the features and facilities of our Cedar Falls, Iowa campus and how we are here to support your educational goals.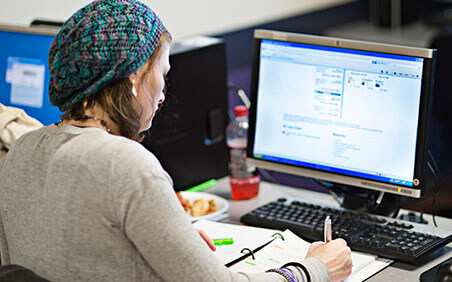 On-Campus Facilities
Purdue Global–Cedar Falls Campus, consists of 30,000 square feet of specialty built classrooms, computer and medical labs, student lounge facilities, and administrative offices. Conveniently located on the south side of the city in the Industrial Park area, our facilities are partially accessible to persons with physical impairments. Our newly built campus offers plenty of parking and is close to two major interstates.
Additional Resources
Our Cedar Falls campus also offers support via Financial Aid, Student Accounts, and Admissions departments. In addition, you can take advantage of our Academic Success Center and The "Focus" where students can go for tutoring and assistance provided by Purdue Global staff. A student lounge is located on the first floor by the entrance and has computers, a television, study tables, vending machines, a small fridge, and microwave. Currently, the Cedar Falls campus has 8 computer labs with an average of 24 computer stations in each lab. The University also has computers located in the student lounge and Academic Success Cente
Program-Specific Labs
Medical Assistant Lab
The medical assistant lab at Purdue Global contains everything you need to learn to be a Medical Assistant. The Cedar Falls campus includes two patient beds that mimic a doctor's office setting, an autoclave for proper sterilization of equipment, a centrafuse to work with fluid samples, a reception area, prosthetic arms to learn blood draws, and drawers and cupboards full of instruments and equipment that will be used to learn how to set up and do all kinds of procedures and tests. There is also a child and infant "dummy" to practice on.
Nursing Lab
The nursing skills lab includes hospital beds, wall consoles with mock oxygen adapters, ambulatory devices, scale, and mannequins (both low- and mid-fidelity). The lab also contains two high fidelity simulators and an audio-visual system to assist students in the developing and testing of skills. Approximately 8-10 students can work in the lab at once. The lab gives students hands-on training prior to moving on to clinical settings.

Criminal Justice Lab
The criminal justice lab has a FATS machine (Fire Arms Training Simulator). This machine provides students with realistic training scenarios that aid in developMedicaling critical thinking skills, eyewitness identification, and on-demand verbal commands. Only one student is allowed in the simulation room at a time with the instructor. The scenarios can escalate or de-escalate based on the student's performance.
Cedar Falls Campus Nursing Lab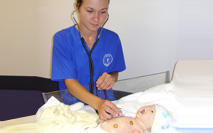 Cedar Falls Campus Nursing Lab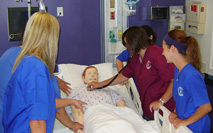 Cedar Falls Campus Nursing Lab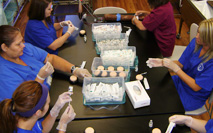 Cedar Falls Campus Nursing Lab