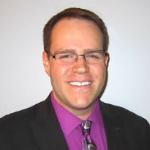 Thomas Deschenes
Tom joined Purdue Global (formerly Kaplan University) in 2008 as an Admissions Advisor at the Lewiston campus in Lewiston, Maine. Prior to joining Purdue Global, Tom was a high school English teacher outside of Boston, but his desire to work in a university setting led him back to his hometown of Lewiston and to the newly opened Lewiston campus.
In his 5 years as an Admissions Advisor, Tom helped hundreds of traditional and non-traditional Maine students earn their first college degrees, and he assisted many prior college graduates in advancing their educations and careers. He also worked closely with College for ME–Androscoggin, the Early College Program, and the Androscoggin County Chamber of Commerce. In his community outreach, Tom established strong business-to-business relationships with a number of large employers in southern Maine, and the creation of these relationships led to his promotion in 2013 to the role of Business Development Manager for Purdue Global's Maine campuses.
Tom's years of working with individual students to help them achieve their personal education goals has prepared him well to work with large organizations to help them meet their specific training and development needs. In the last year, Tom has worked alongside leaders at area organizations like Maine Medical Center, Central Maine Power, MaineGeneral Hospital, TD Bank, the Maine Fire Chiefs' Association, and the Maine Police Association.
Tom is in his final year of a master's degree program at Harvard University in Cambridge, Massachusetts, and he holds a bachelor's degree in English and secondary education from Stonehill College in Easton, Massachusetts.
Contact Tom at 207.210.3122; tdeschenes@purdueglobal.edu