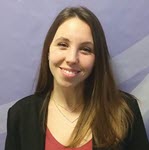 Colleen Ruggelo
Colleen has been in academia for about 13 years in a variety of roles and hasn't really left. She started out as the Marketing and Admissions Assistant for the School of Community Economic Development at Southern New Hampshire University in Manchester, New Hampshire. When she moved to Maine, she became an adjunct faculty member teaching business, marketing and economics courses at Kaplan University (now Purdue Global). She took a brief break to help with a family business but soon found her way back "home" into an admissions and advising role at the University, where she stayed for 4 years until she became a Business Development Manager at the Maine campuses in 2016.
Over the years Colleen has had a steady freelance writing career. She loved teaching classes for her local public adult education centers, including volunteering to teach people English as a second language. She also used her resume writing and career coaching skills to help displaced workers and veterans. She earned a Bachelor of Science in Marketing from Southern New Hampshire University, and a Master of Science in Higher Education from Purdue Global.
In her spare time, Colleen enjoys being outdoors fly-fishing, camping, running, and hiking most of the year, and in winter she is a pretty big Boston Bruin's fan. However, her favorite players have always been her kids.
Contact Colleen at 207.513.3622; CRuggelo@purdueglobal.edu