Fire Chief, Mapleton-Castle Hill-Chapman Fire Department*
"It was very gratifying to be able to get credit for the 25+ years of experience I had and all the classes and training that I had completed. I was awarded 53 of a total of 90 credit hours necessary to complete the associate's degree in fire science, saving approximately $15,000.†
Now what had seemed impossible because of time and money was in reach. I am planning to enter the accelerated bachelor's degree program next. I highly recommend Purdue Global to the nontraditional student like myself who is on the job and looking for a convenient way to earn a college degree."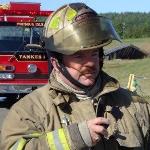 Robert Pinder, Arson Investigator, State of Maine*
"I found the Learning Recognition Course to be a nostalgic journey through my past that brought attention to the accomplishments and experiences that at the time seemed mundane. This self-paced course gives you time to explore every detail bringing to light your past achievements.
The course's modules are well designed and easy to follow. I found the support staff to be well versed and on task. The rewards from completing the course are well worth the effort."
NOTES AND CONDITIONS
*This testimonial was solicited by Kaplan University. Purdue University acquired Kaplan University in March 2018 and created Purdue University Global, which is following the same curriculum format and instructional delivery methods as developed and used by Kaplan University. Views and opinions stated herein are the individual's and not necessarily those of Kaplan University. Individual student experiences may vary. The program referenced in this advertisement is designed to teach students certain skills that could be used in connection with the position stated, but does not qualify students to apply for that position. Purdue Global cannot guarantee employment or career advancement. Additional training or certification may be required.
†Incoming Kaplan University students who submitted their portfolios through the LRC 100 or EL 203 process earned an average of 27 quarter credit hours (as of January 2014) toward their Kaplan University undergraduate degrees. Dollar savings are calculated by multiplying the number of quarter credits awarded by the Kaplan University standard tuition of $371. Savings may vary depending on regional Kaplan University tuition rates and the student&8217;s individual prior learning experience. Eligible college credits articulate into Kaplan University undergraduate degree plans. LRC 100 is a not-for-credit course. Kaplan University does not guarantee that students will earn any particular number of credits or achieve any particular savings. See University Catalog for Prior Learning Assessment policy.