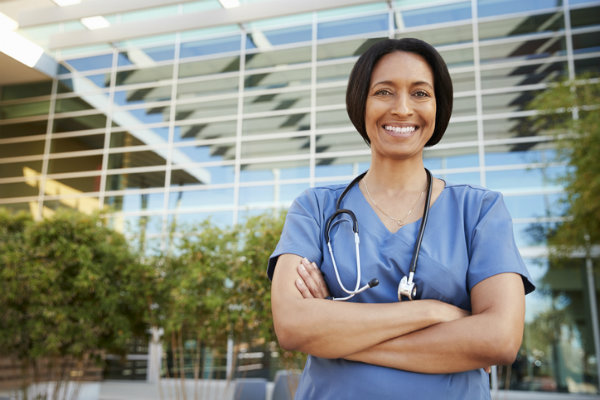 March 8, 2019 | Purdue University Global
If you're a registered nurse who is considering earning a BSN, you're in good company—RNs are heading back to school in record numbers, the American Nurses Association reports. Jessica Gordon, faculty member in the School of Nursing at Purdue University Global, explains why the RN-to-BSN degree is in such high demand.
1. A BSN Expands Your Career Opportunities
Health care has made a tremendous shift to primary and preventive care in recent years, and the role of nurses is expanding right along with it. This focus requires nurses be educated in those areas, as well as in management, leadership, ethical decision-making, and more.
"One of the top reasons to earn a BSN is that opportunities and doors can open for you when you do," says Gordon.* "A BSN degree program includes courses in nursing ethics, nursing management, and leadership, as well as expanded instruction on patient education and primary care.
"When you have that background and education, you become further qualified for the expanding professional roles of a nurse.
2. Employers Are Increasingly Requiring a BSN
Despite a nursing shortage, you may need a BSN degree for future employment.
In "Assessing Progress on the IOM Report The Future of Nursing," the Institute of Medicine recommended that 80% of the nursing workforce have their BSN by 2020.
"Employers are moving toward a BSN level because that is going to lead to more patient education, potentially leadership opportunities, Magnet status as part of a hospital growth system; research and education are all focusing on furthering degrees and education," Gordon says.
One hundred percent of a hospital's nurse managers and nurse leaders must have at least a BSN for the hospital to qualify for Magnet® status.† Additionally, rn.com reports that several large national health care organizations have plans to increase their number of BSN-educated nurses.
New York passed its "BSN in 10" law in 2017, which requires all nurses to obtain a BSN within 10 years of receiving their RN license. No other states have enacted similar legislation—yet. Rhode Island and New Jersey have introduced their own BSN in 10 bills, but they are still under study and, as of February 2019, have not passed.
3. There's a Correlation Between BSNs and Better Patient Outcomes
According to a report from the Robert Woods Johnson Foundation, there is a lower incidence of "pressure ulcers, postoperative deep vein thrombosis, hospital-acquired infections, and post-surgical mortality" among hospitals that employ larger numbers of BSN-prepared nurses.
A 2013 article published in Health Affairs reported that "a ten-point increase in a hospital's percentage of nurses with a baccalaureate degree in nursing was associated with an average reduction of 2.12 deaths for every 1,000 patients." This increased to 7.47 deaths per 1,000 patients for a subset of patients with complications.
4. A BSN Is the Next Degree for Advanced Roles
If you want to earn an advanced nursing degree, the Bachelor of Science in Nursing is the next logical step.
"The curriculum of a BSN program includes advanced health assessment, nurse management and leadership, and ethics, among other courses," Gordon says. "The bachelor's in nursing influences the potential for leadership and the potential for further education as well."
Earn an RN-to-BSN Degree Online With Purdue Global
If you are already an RN, earning a BSN can help bolster your opportunities and credentials. As the nursing field continues to evolve, holding a BSN will only empower you as a caregiver.
Purdue Global is proud to offer an online RN-to-BSN degree program that is taught by talented real-world practitioners and accredited by the Commission on Collegiate Nursing Education.‡ Request more information about the program today and get on the path to earning a BSN.