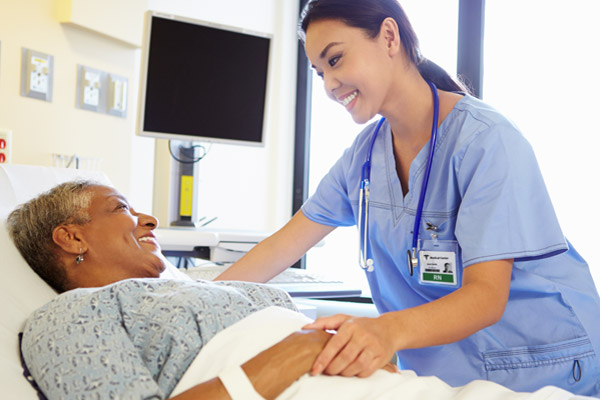 March 27, 2015 | Purdue University Global
According to the World Health Organization, there is a global shortage of nurses, meaning the number of nurses cannot meet the demand for nursing professionals. In the United States in particular, the deficiency will be further impacted as the aging baby boomer population reaches retirement age. According to a report by the U.S. Census Bureau, the population aged 65 and older in the United States will more than double by 2050. This is great for Purdue Global students working to obtain their nursing degree, as this demographic shift will drive a greater need for health care providers.*
For those considering a nursing career, there is no better time than the present, as this shortage can be a boon to those entering the profession. Rated consistently as one of the nation's best careers, nursing has never been a better choice.
Excellent Employment Outlook
In the current economic climate, nursing may be one of the few careers that are practically recession-proof. According to the U.S. Bureau of Labor Statistics, there were 2,711,500 registered nurse jobs in 2012, and the employment of registered nurses for 2012-2022 is expected to increase 19 percent, faster than the average for all occupations.† With a significant segment of the nursing population reaching retirement age, another 525,000 replacement positions will become available, totaling more than one million open jobs by 2022.
Strong Nursing Values
Whether you are just entering the workforce or considering a career change, the nursing shortage presents an opportunity to work in what many consider the most trusted profession in the nation. Beyond standard job-related benefits, nurses often cite the personal benefits as one of the main reasons they chose their career.
While nursing can be demanding, those in the profession find it endlessly rewarding. Nurses have the privilege of providing comfort and well-being to patients in their care. Although the work may at times be challenging, nurses are highly valued by their patients. In fact, an annual Gallup report shows Americans consistently consider nurses among the most trustworthy individuals in any profession.
Vast Career Options
A nursing career offers a good deal of flexibility, and with a nursing shortage, new nurses will be needed in many different settings.
Nurses work a variety of schedules to meet individual needs. For instance, a parent with young children may choose to work the night shift, while others may prefer weekends. Nursing is also one of the few careers with consistent part-time or per diem opportunities.
In addition to schedule, nurses can opt to work in a variety of locations and situations. Outside of the many hospital departments, nurses also work in doctors' offices, extended care facilities, home health care, and government positions. Nurses may also work in non-clinical roles, such as researchers or recruiters, while others may become educators to train the nurses of the future. There are nearly limitless career possibilities, with even more opportunity as the shortage drives demand for all types of nurses.
Flexible Educational Paths
Nursing is unique in that it is one of few careers with such diversity in education. Because an associate's degree in nursing is the minimum level of education required, you can start working in your chosen career sooner than many other fields-in as little as two years.
While an associate's degree can help you gain entry level admission into the career, a nurse may also hold a bachelor of science in nursing, a master of science in nursing, or even a doctorate degree that is rising in popularity such as a Doctor of Nursing Practice (DNP).
Plenty of educational paths provide options for you to tailor your education to meet your goals, including new ways of learning, with advanced technology and many online nursing programs. You can even advance your degree while you continue to work.
Additionally, plenty of specialty degree and certificate programs exist, providing the opportunity to focus on your passion while increasing your income potential. Many programs are offered in both a classroom setting or online, so potential nursing students can create the educational path that's best for them.
If you are considering your future career, consider the advantages of nursing, including great hiring potential as well as many career and education options. Choosing to pursue the nursing profession during the nursing shortage could provide many benefits in your favor.
Your Path to Success Begins Here
---
Learn more about online programs at Purdue Global and download our program guide.
Request Information
Most Popular Posts
Your Path to Success Begins Here
---
Learn more about online programs at Purdue Global and download our program guide.
Request Information