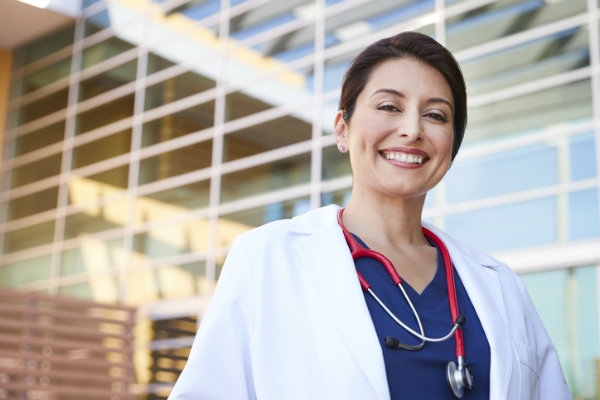 October 17, 2019 | Purdue Global
|
Updated January 5, 2021
Advanced practice registered nurses (APRNs) are in high demand; according to the U.S. Bureau of Labor Statistics (BLS), job opportunities for APRNs through 2028 are "likely to be excellent." The BLS projects that overall employment of nurse practitioners will grow 52% from 2019 to 2029, making it the second fastest-growing occupation.
To learn more about the key factors driving the demand for APRNs, as well as the rewards of working as an advanced practice nurse, we sat down with Michele McMahon, academic department chair in the College of Nursing at Purdue Global.
About the Nurse Practitioner Role
An advanced practice registered nurse is a registered nurse who has earned at least a Master of Science in Nursing. The opportunities for practice are wide-ranging and can include becoming certified and licensed as an advanced practice nurse practitioner (NP).*
"Nurse practitioners can choose to work autonomously in such specialties as family practice, internal medicine, pediatrics, women's health, and in-patient acute care settings including the emergency department, urgent care, and geriatrics," McMahon says.
Regardless of setting, NPs gain a range of clinical skills that include diagnosing and managing acute and chronic conditions, ordering and interpreting laboratory and imaging studies, prescribing medication, and educating and making appropriate referrals for patients and families.
Read Our Career Profile: Acute Care Nurse Practitioner >>
What's Driving the Demand for APRNs?
Overall, the changing climate of health care in the U.S. is causing the increased need for APRNs. Several trends contribute to this shift, including a physician shortage and the aging baby boomer population.
The Physician Shortage and Reduced Access to Care
"There is a shortage of primary care providers in the U.S.," McMahon says, "and a decreased number of physicians in rural areas. Because APRNs can perform many of the same services as physicians, we can help remedy that situation."
Research shows that nurse practitioners with full practice authority (this varies by state) have a positive impact on health outcomes and health care utilization. Nurse practitioners increase access to care, thereby increasing the incidence of routine well-visits and decreasing the need for urgent and emergency care services for conditions that may be treated and managed in the clinic.
"Nurse practitioners are increasingly providing primary and preventive care in ambulatory care settings, such as the pop-up clinics found in the major drug store chains," McMahon says. "By offering these services, patients in medically underserved communities are able to obtain necessary medications, get vaccinations, and be referred to a higher level of care when needed. This is having a significant impact in these communities."
The Aging Baby Boomer Population
According to the U.S. Census Bureau, there were 74 million baby boomers in the nation in 2016 (the latest year for which data is available). As people age, they need more medical care, which drives the need for nurse practitioners.
There's a second aspect to the aging boomer population that's relevant: baby boomer nurses are retiring in record numbers. According to HealthAffairs.org, about 60,000 RNs have retired every year since 2012.
"About half of the RN workforce is age 50 or older," McMahon says, "and their retirements are creating a huge need for more nurses, including APRNs."
The Rewards of Becoming an APRN
The rewards of nursing are immense. You help people care for what is arguably the most valuable aspect of their life: their health. You touch people when they are at their most vulnerable, and you can be instrumental in creating positive developments in the health care of our nation. According to a 2017 study conducted by AMN Healthcare, 83% of nurses are satisfied with their career choice.
"Becoming an advanced practice nurse was one of the best decisions I've ever made," McMahon says. "I take my passion for bedside nursing and put that toward managing patients holistically. I've been able to build relationships, perform outreach in the community, and help populations that are underserved. The connections I've made with families and patients have been extraordinarily touching. And I feel that I still have plenty of years to grow."
This is an exciting time to be an APRN. Advanced practice nurses are key players in expanding access to care in this country.
"Being an APRN has been amazingly rewarding," says McMahon. "I feel as though the opportunities are really endless. I'm excited to see what the future holds."
Earn an MSN Online With Purdue Global
Purdue Global offers an online Master of Science in Nursing with five pathways for specialization:
Adult-gerontology acute care nurse practitioner
Adult-gerontology primary care nurse practitioner
Executive leader
Family nurse practitioner, primary care
Nurse educator
For in-depth information about earning an MSN with us, download our free ebook, How to Become an Advanced Practice Registered Nurse With the Help of Purdue Global. Or, request more information today.
---
Your Path to Success Begins Here
Learn more about online programs at Purdue Global and download our program guide.
Request Information