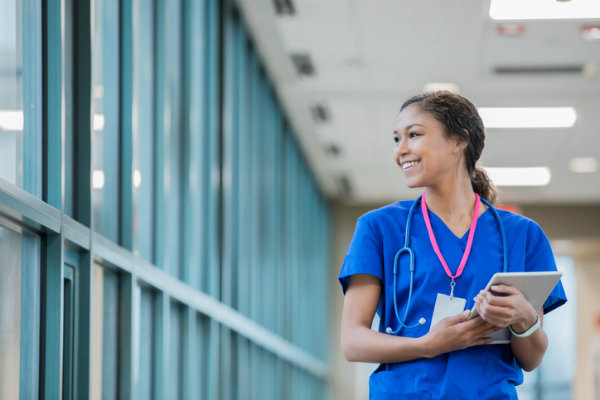 December 11, 2019 | Purdue University Global
|
Updated January 5, 2021
Military spouses overwhelmingly report employment struggles, including being underemployed and/or overqualified for the positions they hold. Consider these facts:
This article addresses the common employment challenges facing military spouses and which high-growth careers may be a good fit.
Common Employment Challenges Facing Military Spouses
"Professionally, the biggest challenge is staying employed while moving frequently," says Tatyana Ray, military relations coordinator at Purdue University Global and a military spouse. "For instance, my husband has been in the Army for 15 years, we've been married for 14 years, and we've moved about 10 times. It is definitely difficult to maintain employment."
Frequent moves affect the spouse's ability to hold a job or grow their career. Spouses who choose to continue their education to learn a new skill or earn a degree may find it difficult to stay enrolled. In turn, this affects their ability to grow their career and hinders the family financially.
"Your professional trajectory shifts, because you have to decide whether you're going to continue to pursue an education, whether you'll take steps back professionally, or whether you'll work in a completely new field for the sake of staying employed," Ray says.
Ray was enrolled in graduate school online when her husband got permanent change of station (PCS) orders.
"We moved to Germany in the middle of the semester, and I didn't withdraw from school during that time. It's stressful, for sure, but once you withdraw, it's even harder to start up again."
Of course, military spouses who are enrolled in higher education on a ground campus have no choice but to withdraw—or decide to stay back while their spouse moves.
"Being geographically separated from your spouse is not uncommon, whether it's to finish school or stay at a good job. We did that once; my husband went ahead without me, and I stayed to keep a really good job. He ended up getting sent back to the same place, so had I quit my job, then I would have been unemployed."
High-Growth Careers for Military Spouses
There are several growing fields that military spouses may wish to investigate for a possible career fit. Demand in these sectors—as well as other factors, such as an interstate licensing compact and remote work possibilities—may make these good careers for military spouses.
Health Care
According to the Bureau of Labor Statistics, employment in health care occupations will grow 15% from 2019 to 2029, much faster than the average for all occupations.* Health care occupations are projected to add more jobs than any of the other occupational groups.
Two health care careers that are in especially high demand:
Nursing. The BLS projects that employment of registered nurses will grow 12% from 2018 to 2028, much faster than the average for all occupations. The interstate Nurse Licensure Compact (NLC) enables nurses with a multistate license to practice (physically or via telehealth) in any compact state, which is of special benefit to military spouses. Currently, 33 states have enacted the NLC. Learn about earning a nursing degree online.
Medical assisting. The BLS projects that employment of medical assistants will grow 23% from 2018 to 2028, much faster than the average for all occupations. Learn how to become a medical assistant.
Read More: 5 Things to Do if You're Considering a Health Care Career >>
Information Technology
According to the BLS, employment of computer and information technology occupations will grow 12% from 2018 to 2028, much faster than the average for all occupations.
Two IT careers that are in especially high demand:
Read More: Resources for Women in Computer Technology >>
"Jobs that are open to remote working arrangements are great for military spouses," Ray says. "At first, in my present position, I was not a remote employee. But then my husband got his PCS orders, and my position was able to be converted. So now I can do my job from wherever my husband is stationed."
Employment Help Is Available
Resources are available for military spouses who are struggling with employment.
"Go to your education center," Ray advises. "All service installations have an education services officer and an education center on post. These centers have counselors who can give you resources and help you find a good fit."
Purdue Global Supports Military Spouses
Purdue Global is sensitive to the challenges facing military spouses, especially the need to pursue careers that offer remote work or are available in a variety of locations. We offer a flexible online format as well as reduced tuition rates for military spouses.
Perhaps most importantly, we offer a leave of absence policy that demonstrates our support for military families who move often. The policy is:
You may take a military leave of absence for a period of up to 12 months. You may also have the option to renew this status one time for up to a total of 24 months of leave; however, if you exercise this option, you will return to the version of the degree program in effect at the time of your return.
Learn More About How Purdue Global Supports Military Families >>
"Purdue Global's leave of absence policy and the flexibility of earning a degree online really help you continue your education," Ray says. "These things can be invaluable for military spouses who are on a path to a degree and a career."
As you explore careers for military spouses, learn how Purdue Global can help you reach your education goals. Request more information today.