May 7, 2014 | Purdue University Global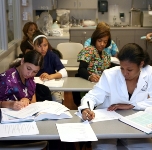 As a university that serves a significant number of military students, including military spouses, it's disheartening to hear the results of the recent 2013 national study focused on military spouse employment, and performed by the Military Officers Association of America and the Institute for Veterans and Military Families at Syracuse University. The study found that 90 percent of female spouses surveyed reported being underemployed or overqualified for the positions they hold. Given our military contingency, at Purdue Global, we've grown familiar with this issue and are sensitive to the challenges military spouses' face, especially the need to pursue careers they can pick up and take elsewhere. And that's just it-military families are faced with relocation often. There's also the need for either flexible hours or hours that correlate with that of their children, since finding childcare can be an issue when their spouses are deployed. Well, the positive news is that there are jobs that are in a growth mode, have flexible hours, and could offer advancement opportunities even from market to market.
First, keep in mind that what we are stating in this article is not different from what we tell our students. What's that? Well, it's all captured in one word: "research." When you are choosing a career or looking for a change, you need to consider all those factors that are important to you. And when it comes to military spouses, relocation is a factor to consider. Research opportunities that are relocation supportive, flexible, or have child-friendly schedules, so you can leverage your skills and experience. You may be thinking that such a trifecta is impossible, but "the perfect storm" of requirements is out there. Careers in nursing, teaching, and information technology all have positive forecasts according to recent Bureau of Labor Statistics data. According to the Bureau of Labor Statistics, employment is expected to grow 21% for computer systems analysts and 16% for licensed vocational nurses from 2014 to 2024, much faster than the average for all occupations.* National long-term growth for both high school teachers and elementary teachers is 6%.† While teaching isn't forecasted at the same higher than average growth rate, the number of forecasted new jobs in the market is of a similar size.
Teaching is a career path that appeals to many parents in general because it can provide schedules that are in sync with that of their children. Nurses can often find flexible and off hours that make finding appropriate child care somewhat easier. And a number of IT jobs are being offered remotely so that these employees could at times work from home. While some of these may require degrees and certifications (and renewal of those certifications with educational training hours periodically), most of these are available online. Studying online offers a potential to build your experience and resume and credentials.
It's also important to know that there are tools out there to help military families in their career planning. We strongly encourage our military community to take advantage of these career planning tools. Military Times recently published an article that speaks about a brand new tool and program developed to help military spouses in their career plans, Military OneSource Spouse Education and Career opportunities (SECO) program. SECO lets its users create a career roadmap on specific listed careers which takes common military spouse factors such as each individual's career certifications and requirements and then plots out a career path for them to use. Spouses must be enrolled in the Defense Enrollment Eligibility Reporting System to use SECO, and obtain a Defense Department self-service logon. You can find more information on this at https://myseco.militaryonesource.mil.
Finding a career path that suits your circumstances, lifestyles, limitations, and requirements is important to all assessing their next career move. So take a step back, perform an inventory of your needs, and do your research. Our Career Moves site has tools and articles to help you plan your career including an article on steps to take for a self inventory. Being aware of your options, taking advantage of resources available to you and the proper consideration and assessment of your career options, can help you pursue and land the perfect career for you.