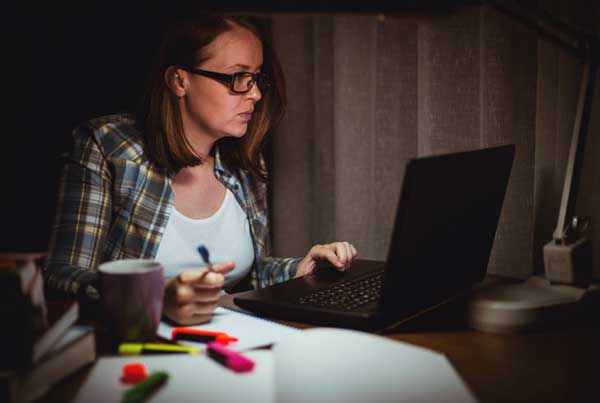 December 18, 2018 | Purdue University Global
Military spouses are often the backbone of a military family. They are holding down the fort, running kids around to soccer practice and dance lessons, and managing finances while working and trying to juggle a hundred other things. A college degree sounds like a good idea, but tight finances at home and the high cost of education often keeps military spouses from going back to school.
Purdue University Global can help. With our online format, students can continue working and taking care of life's responsibilities while going to school, even in the face of a PCS. And, through the Purdue University Global/National Military Family Association Scholarship, eligible military spouses can have 47% of the full tuition rate covered.
About the Scholarship
Purdue University Global has teamed up with the National Military Family Association (NMFA) to help military spouses afford a college degree. This is primarily done through our scholarship, which offers a 47% reduction off the full tuition rate (tuition is reduced from $371 to $195 per quarter credit hour).
Many spouses have accumulated experience or college courses, which we will evaluate to determine if the number of credits you need to graduate can be reduced. You may also be able to take challenge exams to fulfill some course requirements.*
Who's Eligible?
Spouses of current or retired servicemembers who meet the following requirements are eligible.
You must be a high school graduate; a high school equivalent (GED) is acceptable only if you have a minimum of 6 semester hours of prior college-level coursework.
This must be your first time enrolling at Purdue Global.
You'll need to have a 2.75 cumulative grade point average in either your high school or college coursework, if applicable.
What About Your Spouse's Post-9/11 GI Bill Benefits?
You might be able to take advantage of your spouse's GI Bill benefits, but only in limited cases. In 2018, there were significant changes to this benefit and additional changes are expected in 2019. We strongly recommend visiting the GI Bill website to learn more about transferring benefits.
What About MyCAA?
Yes, there's MyCAA, but that's only $4,000 over 2 years, and it's only for military spouses who are pursuing a license, certification, or associate's degree in a portable career field and occupation
If you qualify for MyCAA and you combine it with the Purdue/NMFA Scholarship, you can realize a significant benefit.
How to Apply for the Purdue University Global/National Military Family Association Scholarship
To read the full terms and conditions of the Purdue University Global/National Military Family Association Scholarship, click here.
To apply for the scholarship, visit the NMFA website.
Purdue Global Offers the Flexibility and Benefits That Military Spouses Need
Purdue Global's flexible online format is perfect for busy military spouses trying to balance education, family, and service. Contact us today to learn more about our military programs and benefits.