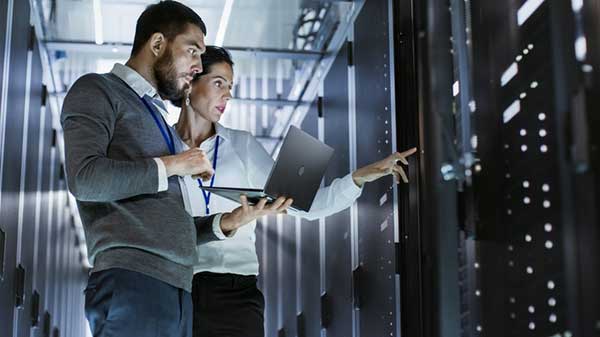 August 16, 2018 | Purdue University Global
Are you looking to take the next step in your IT career? For many, that step comes in the form of certification. In fact, according to a 2017 survey from Global Knowledge, 82% of IT professionals in the United States and Canada hold at least one IT certification. But getting certified takes time and money, and with so many information technology certifications to choose from, it can be difficult to decide which ones are worth the effort. This list should help.*
3 Relevant IT Certifications
Certified in Governance of Enterprise IT (CGEIT)
CGEIT certification demonstrates that you have the knowledge, skills, and experience to enhance the value that an enterprise obtains from IT governance. According to ISACA, an international IT professional association, "CGEIT provides holders with greater recognition in the marketplace and influence at the executive level—and many holders consider it very valuable to their career progression and ability to deliver value to their enterprises."
A minimum of 1 year of experience establishing and managing an IT governance framework is required (individuals can take the CGEIT exam prior to satisfying the minimum work experience requirement).
AWS Certified Solutions Architect–Associate
Amazon Web Services (AWS) certification is a must-have for web developers, database administrators, data analysts, and other IT professionals who work on Amazon's platform—and considering Amazon's cloud is 10 times bigger than its next 14 competitors combined, there's a good chance you touch some of aspect of AWS, or will.
The AWS Certified Solutions Architect–Associate validates your knowledge of how to architect and deploy applications on AWS technologies. To be eligible for the exam, you must have at least 1 year of hands-on experience designing distributed systems on AWS.
Project Management Professional (PMP)
Although not IT-specific, the PMP certification complements just about any other kind of technical credential. That's because most IT tasks can be understood as "projects" of some kind, and include planning, scheduling, budgeting, executing, and reporting.
According to the Project Management Institute, "the PMP is recognized the world over as the gold standard in project management." To qualify, you must have at least 7,500 hours leading and directing projects and 35 hours of project management education (if you have a 4-year degree or higher, you only need 4,500 of project management experience).
3 In-Demand IT Certifications
Career advancement often means applying for higher-level positions as they become available, and certifications can help set you apart. More than that, some certifications may also be preferred (or even required) by employers looking to fill advanced IT roles. Which certifications are most employers requesting? Let's see what the data tells us.
CyberSeek provides detailed, actionable data about supply and demand in the cybersecurity job market. One of the ways CyberSeek helps job seekers and current workers advance their career is by providing information about the types of certifications employers are looking for. For the period April 2017 through March 2018, three certifications in particular are in higher demand nationwide than the number of IT professionals who hold them:
Certified Information Systems Security Professional (CISSP)

CISSP certification holders: 76,413
Openings requesting CISSP certification: 78,523

Certified Information Systems Auditor (CISA)

CISA certification holders: 31,514
Openings requesting CISA certification: 40,681

Certified Information Security Manager (CISM)

CISM certification holders: 12,428
Openings requesting CISM certification: 27,427
Certified Information Systems Security Professional (CISSP)
CISSP certification demonstrates to employers that you have the knowledge and skills to design, engineer, implement, and run an information security program. According to (ISC)², a professional organization for the cybersecurity industry, CISSP is "the most globally recognized standard of achievement in the industry."
If you have at least 5 years of full-time work experience in at least two of the eight domains of the CISSP Common Body of Knowledge, you qualify to take the examination. If you don't have enough work experience yet, you can take the CISSP exam to earn an Associate of (ISC)² designation and then you will have up to 6 years to complete the work experience requirement.
Certified Information Systems Auditor (CISA)
Being CISA-certified shows employers that you are capable of assessing vulnerability, reporting on compliance, and instituting information systems controls within an enterprise. According to ISACA, CISA certification is the "gold standard of certification for IS audit, control, and assurance professionals."
Any individuals with an interest in information systems auditing, control, and security may take the CISA examination, but a minimum of 5 years of professional work experience is required for official recognition as a CISA-certified professional. A master's degree in information security or information technology from an accredited university can be substituted for 1 year of experience.
Certified Information Security Manager (CISM)
The management-focused CISM certification recognizes IT professionals who manage, design, oversee, and assess an enterprise's information security systems and processes. According to ISACA, more than 30,000 professionals worldwide have earned the CISM certification since its inception in 2002 in order to "affirm both their high level of technical competence and qualifications for top-caliber leadership and management roles."
Anyone can take the CISM examination, but applicants will need to submit verified evidence of at least 5 years of information security work experience (minimum 3 years in a management role). Work experience must be gained and verified within 5 years from the date of originally passing the exam.
Advance Your IT Career with a Degree from Purdue University Global
Whether your focus is cybersecurity, network administration, or software development, we offer degrees and graduate certificates in IT that can help you advance within your field.† Learn more about our programs and about our personalized, competency-based online education that helps you earn your degree faster. Request more information today.