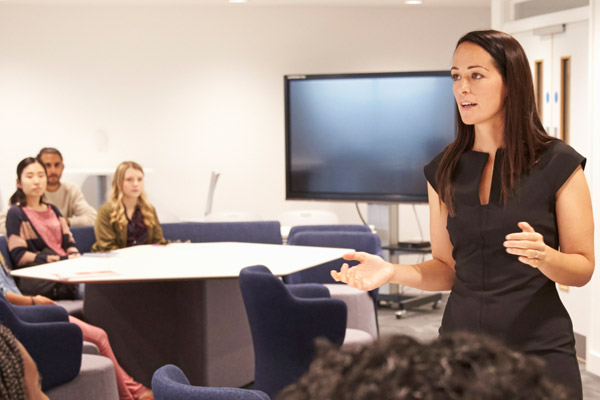 April 10, 2014 | Purdue University Global
Many educators want to spend their careers as classroom teachers guiding students through the day-to-day processes of learning and growing. But some also want to take on additional responsibilities, experience new challenges and be a leader to adults as well as students.
One way to do that is by moving into a subject-area or grade-level leadership role such as team lead, department chair, or curriculum developer, says Purdue Global's School of Graduate Education Associate Dean Lynn Massenzio.
That job can be a springboard to a job as an assistant principal, principal or other school administrator, Massenzio says. But, before that, "you usually have to be an excellent teacher for several years and possess an educational leadership or administrator license from your state."
The people hiring for jobs outside classroom teaching "are only going to consider people who are great teachers first," says Tracy Brisson, author of "Confessions of a Teacher Recruiter." "Your results with students will be the first thing they consider before all the other skills you have."
While you're honing your teaching skills and developing a great reputation in the classroom, there's more you can do to prepare yourself to eventually move on to a leadership role.
Take on Additional Responsibilities
The best classroom teachers know that just because the bell rings at 3:30 p.m., that doesn't mean the workday is over, Massenzio says. You should volunteer to sponsor extracurricular activities, lead committees, work with the PTA and take on other roles within the school.
"Find every opportunity to show your skills and talents," says Raymond A. Lauk, superintendent of the Cook County School District 130 in Blue Island, Ill.
Demonstrate Leadership Skills
As you take on additional responsibilities, use those opportunities to practice and demonstrate your leadership skills. "Represent those committees publicly," Lauk says. "Make presentations on the committee work at staff inservice meetings and school board meetings."
"Showing how you can organize and influence a group in a visible way will show a principal that you have leadership potential," Brisson says. "The best way to learn leadership is to take advantage of as many opportunities as possible that provide you with the underlying skills."
Get to Know People
It's important to develop relationships with as many teachers, administrators and other school employees as you can, Brisson says. "You do not know who will be promoted over the summer and suddenly have openings in his or her department. Relationships matter and it's best to start them before someone has a job opening."
It also helps to get to know people online, she says. "There are lots of sites that are looking for teachers to guest blog about their expertise and innovative ideas, tell stories or even review books. You could also start your own blog. I also recommend joining personal learning networks on Twitter such as #edchat and connecting with people who have similar ideas."
Keep Educating Yourself
Great teachers and education leaders are also passionate about learning themselves. Be creative, share ideas with your peers, go to education conferences, take classes and attend workshops, Massenzio recommended.
Many leadership jobs will also want you to get more formal education and additional certification, she says. Those requirements vary, so you'll need to look into what's required in the areas you want to work.
And don't be afraid to look into learning that's not strictly geared toward educators. Running a school is a lot like running a business, so business education can be helpful. Englewood Cliffs, N.J., Superintendent of Schools Robert Kravitz has an MBA and says he's hired other people with business backgrounds to take on leadership roles in his system.