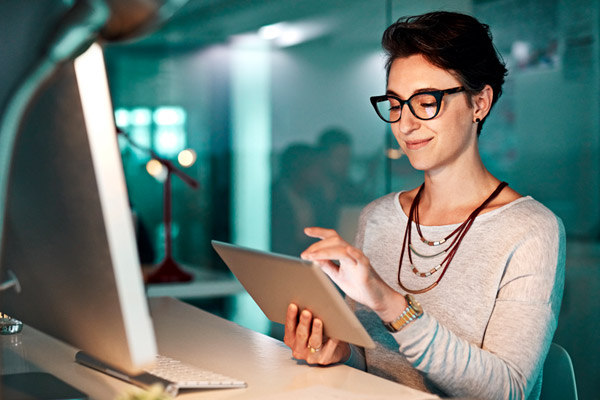 May 27, 2015 | Purdue University Global
A Fulfilling Career That Best Fits Who You Are
Do you feel unfulfilled at your job? Perhaps you want a challenging career with better pay, or you are looking for better hours and better benefits. So, what is the first step you should take toward a new career? Perform a self-audit. Think about your experience, your credentials (college credit or experience, paid or volunteer work), your strengths and weaknesses, and your motivators and drivers to succeed. A self-audit of all these can help you sort out your career options and "opt-outs" so you can wisely choose a fulfilling career that best fits who you are-instead of forcing yourself into something that's not your best fit.
Five Step Self-Audit
As you go through each of these steps, make sure to document them so you can reference them later.
Step One: Be Honest. When performing a self-audit, as a rule you should be completely honest with yourself! You want to make sure that you choose a career that could last for years to come, and will provide you with happiness and security. For example, suppose you are interested in the nursing profession. Ask yourself whether you would enjoy interacting with patients every day. If the answer is no, perhaps you would be better suited to an administrative role-or maybe nursing just isn't the career for you. Or, perhaps you're attracted to the trendy and cool aspect of working for a small start-up, but if you're being honest with yourself, you require the structure and predictability of working in a corporate environment.
Step Two: Reflect on Your Personality Attributes. We are all wired differently and therefore respond differently to environmental circumstances-including our jobs. For instance, do you like having a rigid job description where expectations are clearly laid out, or are you more of a self-starter who likes to create your own schedule and responsibilities? Are you a team player or do you prefer to work alone? What motivates you? What are you normally patient about and what circumstances try your patience?
Step Three: Identify Your Interests. Do you have hobbies or subjects you like to read on and stay up to date with? What are some of the things you've always wanted to do or know about but haven't been able to? Are there any common themes among those interests? Take some time to consider those things you enjoy most and wouldn't mind spending a considerable amount of your time doing.
Step Four: List Your Accomplishments. Pick things that are both personal and professional. Perhaps you chaired a fundraiser at your child's school or you were chosen as Employee of the Month at your job. Maybe you were part of a team that helped your company build a faster network or you were captain of your neighborhood softball team. Think about where you have had success in your life and remember to celebrate the small stuff!
Step Five: Inventory Your Skills. Perhaps you are a natural at working with computers. Maybe you know how to use the new electronic medical records charts at work, or you know how to operate a certain machine. Count everything-every computer program you know, every certificate you have earned, any training you've had, every language you speak. All of your skills add up to complete your experience.
What's Next After the Self-Audit?
Fine-Tune Your Career Options and Do the Research. The results of your self-audit are the start to several next steps you can take. Hopefully, as you reflected throughout those steps, different roles and careers came to mind, or it may have served to help you filter out professions. Research those professions you are now considering. You may not currently have all it takes to perform the job or get into that profession. Are you missing experience? Consider gaining it by volunteering or seeking further education or training. The good news is that there's something you can do about those gaps.
Address the Skill Gaps Between Your Career Choices and Self-Audit. If further education is one of the gaps you need to fill in order to prepare for a job, you may be able to use the experiences listed in your self-audit to your advantage. Higher education providers may offer you credit for prior learning and experiences. These are items you should have identified in your accomplishments. So before you enroll in a program and follow the outlined degree plan, consult with an advisor or investigate the school's policies and offerings. You may find that you can be awarded credit for your past education and experiences. This may not only save you time and money, but also get you out in the job market earlier.*
Purdue University Global's 5 Ways to Earn the Credit You Deserve
Purdue Global Advisors often help students figure out how to get credit for eligible prior experiences, including college coursework or work and volunteer experience. In addition to work/life experience, other types of eligible experience include military training, professional certifications, Purdue Global course assessments, and external competency exams. All of these may qualify for credit toward a degree. While the transferability or eligibility of credit for any one of these cannot be guaranteed, students are encouraged to explore and pursue those that make best sense for them. See the University Catalog for the Prior Learning Assessment policy.
Credit for Work Experience Courses provide students with a process to articulate and organize their skills and past experiences into an online portfolio that's ready to be assessed for undergraduate credit that can later be applied toward a Purdue Global degree. There are two course options:
EL 206, for Purdue Global students, is an undergraduate 10-week, instructor-led course students can take after completing their first term. Students earn 6 credits towards their degree for taking the class. More than 2,000 students have completed EL 206. On average, students have saved more than $10,500 on Purdue Global tuition and earned 33 quarter credits (6 courses) toward their degree†:
LRC 100, for prospective students who have not started classes, is a free self-paced open course with no instructor. The course itself does not earn credit toward a degree; however, it does guide you on building a portfolio that can be assessed for credit.
In either of these two courses, there is a $1500 portfolio assessment fee. This nonrefundable fee may be covered by financial aid.
Course Assessments allow students to demonstrate their mastery and proficiency in select skills and knowledge by taking an exam. Testing options are not applicable to all courses, but there are a number of undergraduate courses that do offer assessments. Select business and criminal justice graduate program courses also offer assessments.
Professional Certifications or Training can be a source of credit.The American Council on Education (ACE) provides colleges and universities recommendations on industry, professional, and other types of training, examinations, and certifications that schools should consider awarding credit for. While Purdue Global cannot guarantee transferability of credit, it does review and assess your professional certifications and training for credit, and students are encouraged to provide transcripts from ACE to the Prior Learning Assessment Center at the University.
Transfer Credits from courses taken at other colleges may be applied to a Purdue Global degree program. Students can complete a form to request transcripts from previous institutions to be sent to Kaplan's University's Office of the Registrar. Once received, those courses are reviewed for potential credit toward students' degrees.
Military Training is another potential source of credit. Once official transcripts are received from the designated acceptable entities, Purdue Global's Registrar assesses these for credit. Additionally, Purdue Global has evaluated various military occupations and mapped them toward special military programs.
You Can Start a Career Change With the Right Steps
If you're not satisfied in your current career, we hope that this information encourages you to consider exploring your options. If your job has never been the perfect fit for you, remember that it can be. You, however, need to take steps to build on your past to make your future happen.
Your Path to Success Begins Here
---
Learn more about online programs at Purdue Global and download our program guide.
Request Information
Your Path to Success Begins Here
---
Learn more about online programs at Purdue Global and download our program guide.
Request Information