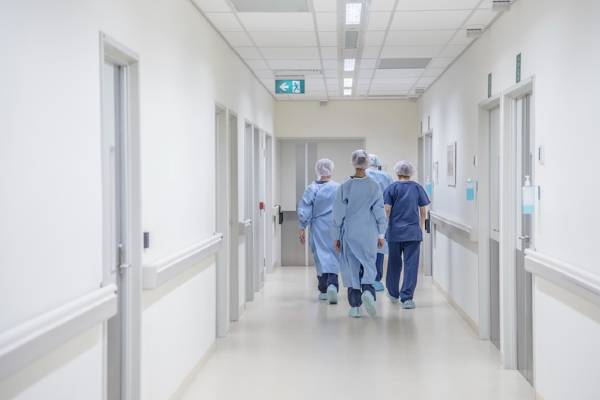 April 14, 2022 | Purdue University Global
As identical twin sisters born and raised in Indianapolis, Kerri Stone and Kelli Lyon have naturally shared a lot over the years.
They were roommates throughout their 4-year undergrad experience. They both earned BSNs. They went to work for the same hospital. They have dogs from the same litter. They each have a daughter. "Born one month apart," Kerri says.
"To the day," Kelli adds.
Now, they can add one more item to their "samesies" list: They are nurse practitioners.
Both women recently graduated from Purdue University Global's online School of Nursing with a Master of Science in Nursing (MSN), with a specialization in family nurse practitioner primary care.
Online Format + Purdue Global's People Make the Difference
The sisters still reside in Indianapolis, where they live two streets away from each other. Going back to school was originally Kerri's idea, and as the COVID-19 pandemic began, Kerri was soon on board.
"Our mom volunteered to watch the girls for us so we could go back to school," Kerri says. "She has been a huge support system for us. We could not have done this without her."
Kelli found Purdue Global's online program, and the two were convinced.
"We did a lot of research," Kelli says, "and Purdue Global not only had an excellent program, but the people working there were the nicest and most helpful, both the faculty and the staff. It really made a big difference."
The pair chose to attend Purdue Global's ExcelTrack™ Master of Science in Nursing, an accelerated, competency-based program. They loved the online learning platform and the relationships they developed with faculty and other nursing students.
"We earned our whole MSN in 18 months," Kelli says. "Purdue Global was awesome. We strongly recommend it to anybody."
Now, Kerri Stone works as a nurse practitioner with an Indianapolis plastic surgery practice, and Kelli Lyon is a nurse practitioner with a local urgent care. Congratulations on all your hard work, ladies!
Earn Your MSN Online With Purdue Global
If you are a BSN-prepared registered nurse who's thinking about earning an online master's degree in nursing, consider Purdue Global. Part of the renowned Purdue University system, we are an all-online public university that caters to the needs of working adults. Request more information today.