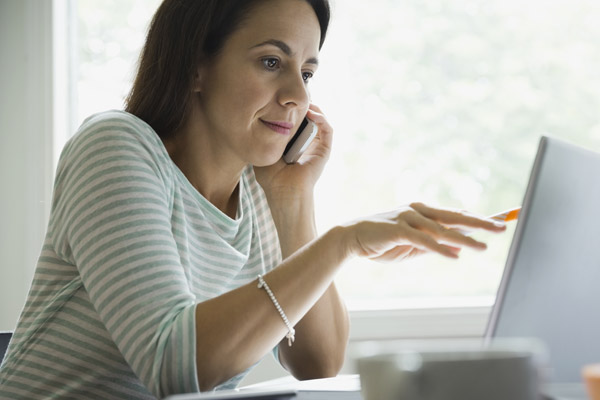 May 10, 2017 | Purdue Global
Bachelor of Science in Business Administration, 2010; Master of Science in Psychology, 2016

After nine years of being a stay-at-home mom, Teresa Heier decided to go back to school, earning an associate's degree in science from Johnson County Community College in Kansas in 2006. She enjoyed the learning experience and wanted to continue her education.
But as an army military spouse raising young children, Teresa needed a university that could move with her.
"We are a military family traveling all over the place and it just wasn't practical to attend a brick-and-mortar university," she said.
Purdue Global helped getting a degree on the move possible. Teresa enrolled in Kaplan University (now Purdue Global) in 2007, graduating in 2010 with a bachelor's degree in business administration.
According to Teresa, "I actually moved three times during my undergraduate degree. The online platform helped with keeping me in one university, not switching around, and not trying to transfer classes to each different school."
Three years later, Teresa enrolled back in the University and began earning a master's degree in psychology.

"I enrolled back in [the University] because the school exceeded all of my expectations. If I needed anything, the professors and advisors were always there," she said.
One of the biggest benefits from her experience was improving her time management skills.
"I think with all the time management skills that I've gained throughout both of my online degrees through [the University], it really has an impact on life in general and in the workforce. To me, time management skills are the most important especially when you have a family," she said.
Those skill sets came in handy. While earning her master's degree, Teresa became very involved in student life which included serving as the president of the University's chapter of Psi Chi, the International Honor Society for Psychology and vice president of the Psychology Club. "My most memorable experience at [the University] was being a student leader," she said. "Even though I'm a caregiver, I'm still learning about other people's needs. Being the president made me a better listener and helped my time management skills."
Teresa completed her master's degree in 2016. Currently, Teresa is working at a small autism center as a one-on-one registered behavior technician.
Purdue Global cannot guarantee employment or career advancement. Additional training or certification may be required.
While many of Purdue Global's degree programs are designed to prepare graduates to pursue continued graduate- or doctorate-level education, the University cannot guarantee that students will be granted admission to any graduate or doctoral programs.
---
Your Path to Success Begins Here
Learn more about online programs at Purdue Global and download our program guide.
Request Information