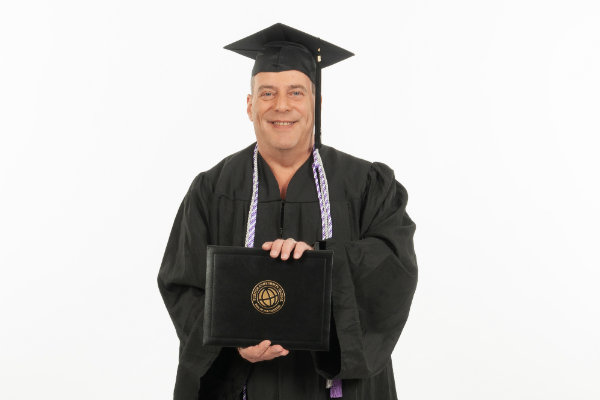 April 9, 2020 | Purdue University Global
Ira Walter had an eventful start to his RN-to-BSN degree, and it began with an accident. Since then, Walter's commitment to his nursing profession, his patients, his wife, and his late mother propelled him to earn his Bachelor of Science in Nursing degree, and he's not done yet.
We sat down with Walter to learn about his experience and how Purdue University Global made a difference.
>> Watch Ira Walter Discuss Getting His RN-to-BSN Degree at Purdue Global:
Turning Difficulty to Triumph With an RN-to-BSN Degree
Walter had been a registered nurse since graduating from the State University of New York Sullivan in 2008. Then, an accident changed his trajectory.
"I had a car accident and I actually had a concussion," Walter says. "I needed something to stimulate my thinking, and so I decided to go back to school. It was a big decision. I knew I had to get my bachelor's, but I was never ready until the car accident."
He ran into more roadblocks while looking for the right RN-to-BSN online program.
"I was getting the runaround from every other college—we'll get back to you, tuition's this much, plus this plus that. There was too much rigmarole, and my brain couldn't handle that because of the concussion," Walter explains.
That's when Purdue Global stepped in and gave Walter what he needed.
"They took their time and spoke with me, and I was so pleased I actually signed up the same day. I didn't have to think about it," Walter says. "I liked how I was treated and how I felt."
Fighting Through More Adversity to Finish Strong
"After my mother died, I kept going. My classmates stayed with me. My instructors were calling me, saying 'You can do this.' It was just an amazing thing."

Ira Walter, RN-to-BSN, Purdue University Global, Class of 2018
Unfortunately, the challenges for Walter didn't end when he started to focus on his degree.
"Tragedy hit, and I lost my uncle on my mother's side, in January 2017. That was pretty rough," Walter says.
Then, two months later, his mother died.
"My mother's passing happened just before finals, and I wound up going to New York for her funeral. And I'm thinking, how am I going to do this?" Walter says. "I kept going. My classmates stayed with me. My instructors were calling me, saying, 'You can do this.' It was just an amazing thing."
Walter managed to finish on a high note.
"I graduated with a GPA of 3.95. How, I don't know. My GPA never dropped below a 3.40, which was just amazing. The support from everybody is what got me through," Walter says.
Advice for Those Considering a Degree: Don't Wait
"I procrastinated for a while. Don't procrastinate. Whether you go to school or don't go to school, the time is still going to go by. You might as well just go and take the classes you need. You're going to be happy. You're definitely going to be happy," he says.
"And you'll get momentum, and hopefully, move on to another class. Don't be afraid. The support system's there, the faculty, your classmates, your spouse, your family—everybody will be there. They've got your back."
Walter would know. He's already enrolled in a Master's of Science in Nursing (MSN) program at Purdue Global.
Earn an RN-to-BSN Degree
If you're interested in furthering your career and making a difference in the nursing field, an RN-to-BSN may help. The baccalaureate degree in nursing at Purdue University Global is accredited by the Commission on Collegiate Nursing Education, and we're part of the respected Purdue University system. Request more information today.