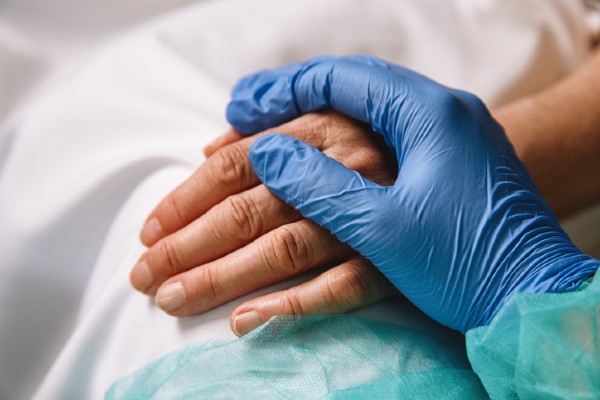 March 3, 2021 | Purdue University Global
Ashley Tippins persevered through job loss, homelessness, and COVID-19 challenges to complete her Doctor of Nursing Practice (DNP) degree through Purdue University Global. Prior to earning her DNP, Tippins completed Purdue Global's Online Master of Science in Nursing (MSN) program with a family nurse practitioner focus.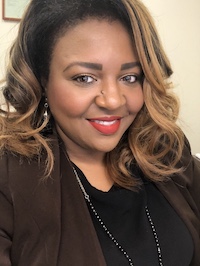 As a busy nurse and mother, Tippins found just what she was looking for in Purdue Global.
Purdue Global: A Flexible, Easy Choice
"I was looking online to see what school I wanted to get my master's from and that's when I found the University's website," Tippins explains. "I explored their program and it seemed like a perfect fit for me since it's geared to online learning. Being a single parent with two kids and having to work full time, this flexibility was important for me."
Tippins completed her master's degree at Purdue Global in 2018 and started the online DNP program about a year later.
"Having finished my master's degree at Purdue Global, I knew the faculty was attentive to students and committed to our success," Tippins says. "There was no doubt that this was where I wanted to do my doctoral program."
As Tippins studied, she worked two jobs as a post acute care nurse practitioner and urgent care nurse in the Montgomery, Alabama area. Being a full-time nurse, student, and mother took a lot of dedication. Tippins' son recognized this and did what he could to support his mom's studies.
"When I was doing my master's program, my son always made sure I had my computer and charger," she says. "He knew if I took him to a birthday party, I was going to be studying. Even if I went to a baseball or softball game, I had to take my books with me. He kept me on point."
Tippins says her son and daughter also recognized how important it was for her to complete her studies at the next level during the online DNP degree program.
>> Related Reading: How Do Online Nursing Programs Work at Purdue Global?
Determination in Spite of Sickness, Unemployment, and Homelessness
As Tippins was finishing up the online DNP program in July of 2020, she tested positive for COVID-19. This forced her to stop working and quarantine at home.
"Even though I was sick, I had to continue doing what was required of me as a doctoral student," she says. "I pushed through the abdominal pain and other symptoms I was having because I was so close to completing the program."
Soon after Tippins recovered from the coronavirus and was able to return to work, both of her nursing contracts ended.
"For the first time in my life since the age of 15, I became unemployed," she says. "I didn't know what I was going to do. I was near the end of my doctoral program and wanted to finish on time, but I also needed to figure out how I was going to eat, pay my electric bill, pay my mortgage, and everything else."
The job loss didn't keep her down for long, however.
"Having the mindset of 'I just gotta do what I gotta do,' I didn't allow myself to break down at this point," Tippins explains. "I had to finish school, take care of my kids, and just do what I had to do as a parent. So I got a side job as an RN at a nursing home just to make ends meet."
As if these challenges weren't enough, Tippins also became homeless for a period of time as she was trying to complete her studies. Despite these struggles, she stayed positive.
"Some people said they would have lost their mind if they were in my shoes, but because I believe that the Lord doesn't put me anywhere where He doesn't intend for me to be successful, I had to trust that this was God's plan," she says. "No matter what came my way, good or bad, I had to stay the course."
>> Related Reading: The Importance of Self-Care for Nurses and How to Put a Plan in Place
Persevering to Complete the Online DNP Program
Tippins, like many nursing students, had a hard time finding a facility through which to complete her DNP clinical placement. In an effort to limit COVID-19 exposure and preserve personal protective equipment for essential workers, many hospitals cancelled clinical placements, the American Association of Colleges of Nursing reports.
Luckily, with the help of Purdue Global faculty member, Sarah Brown, DNP, Tippins was able to find a placement.
"Dr. Sarah Brown was my go-to person and mentor while I was in the doctoral program," Tippins says. "She lived in Florida and had some connections there. So to make a long story short, I was able to go to Daytona Beach to complete my clinical placement at a hospital."
"On one of the hospital walls was a scripture passage from Psalm 37:4-5," Tippins says. "It said, 'Delight yourself also in the Lord, and He shall give you the desires of your heart. Commit your way to the Lord, trust also in Him, and He shall bring it to pass.' I wrote that scripture down before I took my nurse practitioner board exam in 2018, and it came full circle to see it again in 2020 when I was finishing my doctoral program."
Tippins completed the online DNP program in November 2020 with a 4.0 GPA.
"My overall experience with Purdue Global's online DNP program was excellent. I always kept in contact with my mentors, and my professors always kept in contact with me. They went above and beyond to ensure that I was successful in completing the program."
>> Related Reading: 6 Reasons to Get an Online Nursing Degree With Purdue Global
Advice for Aspiring DNPs and Other Nursing Professionals
"My advice to anyone with nursing goals is to stay the course. No matter the obstacles, stay focused," Tippins says. "I always tell people that you just have to do what you have to do to be successful. Nothing is given to us for free, but I truly believe that if you stay the course, you'll be successful in anything that you do."
Since completing the online DNP program, Tippins has been teaching in the nursing program at an Alabama college. She plans to continue giving back to her community and caring for patients. Eventually she hopes to open her own practice that connects those in rural areas with necessary health care services.
"Dr. Tippins' perseverance and dedication to her doctoral studies while facing such adversity is highly commendable. Her strength served as a guiding force for what I believe will be a highly successful future in her career," says Melissa Burdi, DNP, dean and vice president of Purdue Global's School of Nursing.
"As a doctorally prepared nurse, Dr. Tippins is well poised to impact change at the macro and micro levels, helping to reshape our health care delivery model and lead with empathy."
Learn About Purdue Global's Online Nursing Programs
Are you interested in furthering your nursing career? One of Purdue Global's online nursing programs can help. Our online DNP program is accredited by the Commission on Collegiate Nursing Education.
Learn more about our nursing programs, or request information today.