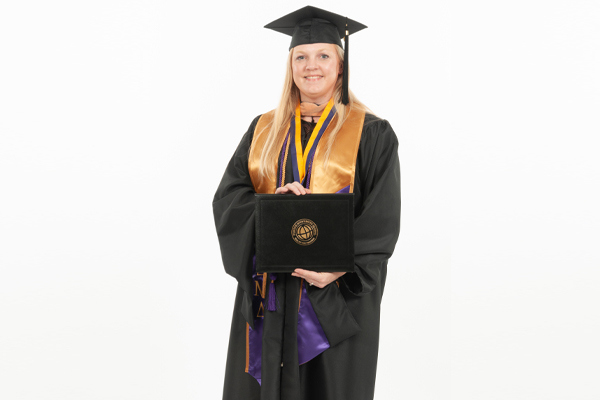 January 15, 2020 | Purdue University Global
Wendy Buice had a bachelor's degree, but she knew if she was going to remain competitive and advance in her career, she'd need a master's in business administration (MBA) as well.
"I'm a long-standing employee and I have a lot of experience, but I could never really be competitive at very high [executive] levels without having this degree," Buice explains. "If something happens to my company—let's say they reorganize—and I am back on the market looking for a position, I need to be competitive both from a salary standpoint and an education standpoint with other candidates coming up against the same roles as me."
The vice presidents at Buice's current company all have MBAs. If she wanted to get to that level, she needed one, too.
"I needed to make sure that I could bring those same type of educational abilities to the table and be competitive with other people in my field," she explains.
Buice enrolled at Purdue University Global and in April 2018, she earned a Master of Business Administration.
Purdue Global: A Flexible Online Format
An MBA program had to fit into Buice's already full life.
"I travel very heavily for work—around 85,000 miles last year—and Purdue Global really gave me the opportunity to continue to work at that level and still obtain the degree that I was looking for," Buice says.
"I would not have gotten my MBA if it had not been for this university," Buice says. "There is no way, and I did look at other universities… I knew that this university could offer me exactly what I needed—the ability to have a personal life, to have a professional life, and still be able to go to school at my convenience and get stuff done."
>> Watch Wendy Discuss Getting Her MBA With Purdue Global:
Learning Skills That Are Immediately Applicable
Buice says she was immediately able to use what she was learning in her everyday work.
"I could use the knowledge from my MBA almost directly in what I was doing every single day," she says. "In addition, I was able to make suggestions. I was able to reach out to my organization and say, 'I think this [idea] is very valuable for us.'"
Smaller Classes and Interactivity Feels Like 'Family'
"The entire program was very interactive," Buice says, "I could interact with other students. I could interact with my professors. There were smaller class sizes, and that really helped me because I felt kind of like it was a family."
Buice took advantage of the ample support offered by Purdue Global.
"In general, I felt like I had a lot of support from student services and the library. The MBA program requires a lot of research, and I always felt like I had an avenue to access that research and prepare."
Instructors Are Real-World Experts
Buice says she has significant collaboration with Purdue Global instructors.
"I loved my faculty, [and] they were very open to dialogue, asking questions, and providing feedback," she says. "I liked the fact that not only could I log on and actually have that interactive ability in the classroom with the professors, but that they had office times and that I could communicate and say, 'Hey, I'm working on this. What are your thoughts about it? Do you think I'm on the right path? Do you think that I've got the right idea here, or should maybe I expand my scope a little bit?'
"Yes, they were my professors, but they were my partners. And it felt really, really good that I had a partner walking through the program."
Take the First Step
If you're thinking about going back to school for an MBA, Buice has some thoughts for you.
"The biggest advice I would give is that you just have to start somewhere," she says. "You have to make a decision and a determination that you're going to do it, and then you have to take that first step. And then you take the second class, and then the third class. And very quickly, you start to see, 'Look at how many credits I have already. I'm halfway through the program. I can do this.'
"I have talked to several friends who are interested in going to school and said, 'This is the school you need to go to.' Forget about all of those other ones, and let me tell you about the program that I just went through and was able to get through because of the support. I actually feel that [Purdue Global is a] family for me."
Purdue Global and You: Achieving Your Career Goals
Take the next step. Request more info about Purdue University Global and learn how a degree can help you take your career to the next level.